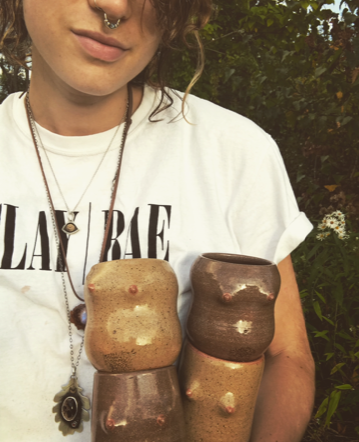 Chloe Treu shares with us her journey into the world of pottery.
Tell us a bit about yourself.
My name is Chloe! I'm 23 years old. I've been doing ceramics for about 7 years now. I started in high school ceramics class and fell in love! I got sent away in the middle of my junior year to a intensive wilderness therapy program in the middle of the Utah desert, which was one of the most rewarding experiences that I've ever gone through. Afterwards, I was sent to a boarding school in West Virginia to finish out my high school career. The school had a ceramics program solely for beginners. The teacher there was a beginner too! I worked my way into earning a key to that ceramics studio, at which I spent pretty much all of my free time doing art. That is where I truly realized I wanted to work with clay. Ever since I started working with this medium, it has been where I feel most comfortable and happy. I feel right at home when I am sitting at my wheel in my small studio. My father built me my own studio to come home to right after I finished high school. It was very much a hobby and an outlet for many years. For as long as I can remember, being an artist has always been my dream. I never thought it would come true so soon!
When did you start creating? What has made you want to pursue it?
As I mentioned above, I started creating in high school ceramics class during junior year under the guidance of the best teacher ever, Mrs. Schultis! After high school, I worked in many different restaurants as a waitress. It was never something that I really enjoyed doing, but a job is a job so I stuck it out for a good four years. I needed a break, so I traveled the country with a friend for a month. It was the break that I really needed and wanted. When I returned home, I thought I had my old job to go back to, but it turned out that I didn't. It was right then when I thought to myself, "Well, now is your chance, Chloe! Let's see if we can make this dream a reality." I began to pursue this dream as a real job. That was over a year and a half ago now.
Do you have a favorite project or piece that you've created?
In general, my favorite things to throw on the wheel have always been mugs of different shapes and sizes. All things funky! I'm not super into making repeat ware. I like each individual piece to be totally different. I am for sure more of a wheel worker as opposed to a hand builder. It comes more naturally to me.
As far as projects go, my most favorite project that I am a part of is a collaboration between a friend and myself. We make candles! I create the ceramic vessel and she pours her homemade wax candles into them. They are so elegant and such a work of love. The best part about them is that when you are finished burning your candle, you can wash out your vessel and you have a drinking cup!
Can you share with us a few artists or makers that inspire you or your work?
The first person that comes to mind is Melissa Weiss. She is a potter based out of North Carolina. What inspires me most is her use of wild clay. She excavates and minimally processes all of the clay that is used in her work, which is something that I hope to be able to do at some point in my career. She has a very distinct style and you can recognize her work from miles away. She's such unique and inspiring woman! Another artist that I discovered when I was in high school and became infatuated with was Simon Leech. I use to watch him work on his Youtube videos almost every day. The way he works and looks as he is working is very soothing. He seems so comfortable and at peace when he is working and talking about the process. I have just always enjoyed watching him work. I am a hardcore visual learner so watching artists work and seeing their differing techniques has been a huge help to me in learning the ways of the clay.

What is your creative process like?
I feel that in order to create the way that I like to, I have to give myself slow mornings. I tend to work all day long with breaks in between. My process includes a to-do list, lots of coffee, dog pets, and sloooow work. I do not like to rush my process. I usually find myself in the middle of five to ten things at once. I work best this way. I like to bounce from task to task to keep my mind fresh and motivated. For example, if I am working on a wholesale order of 70 vessels that are all the same shape and size, I will break it up by throwing some large planters or funky pots in between. Repetitive work makes me bored and feel burnt out, which is a huge no-no when you make your own schedule.
What is the hardest part about what you do?
As a business owner that has grown her following mainly through social media (Instagram), I feel that the hardest part about my work is not getting discouraged by comparing myself to others, whether by comparing numbers or comparing styles. It is really hard to continuously gain interest. I have to constantly be mindful of the work that I post and the times that I post. It is something that has become important for small business owners.
Do you have any advice you'd give a young artist hoping to embark on a creative path?
Go for it! When people ask me for advice on this topic, my usual response is, "You won't know until you give it a shot!" That is how I went forth with my creative career. It is something that requires a lot of work and it most certainly does not happen overnight. It is so easy to get discouraged, especially towards the beginning, but if it is something that you are truly passionate about then hard work and dedication is the answer.
What is your workspace like?
I have my own lil studio. It is equipped with a wheel, a kiln, a slab roller, and everything that I need to make my business work. I have found that I work best alone. Which I the main reason that I have decided to stay in my own space and not branch out to a community studio or otherwise. Over the years I have slowly made the space into my creative cave. It truly feels like my home away from home. I would sleep there if it was large enough, haha! I have decorated all of the walls with works of art by fellow small business owners. Surrounding myself with art is something that is super important to me and my process. It heavily influences me in my day to day life. It is certainly a small space but it is organized and houses everything that I need for where I am at today.
What are you working on right now?
I am currently working on a huge order of candle vessels and I am so excited about it! To break up the repetitive work I have also been preparing for my next shop update, which includes lots of carving and leaf pressing. Different techniques to mix up the work load is always the way to go for me. I am also working on an awesome collaboration between a crochet artist and myself. We are making hanging planters. She has crocheted up a bunch of hangers for me to fill with pots. They are coming together better than I imagined!
If or when you find yourself in a creative rut, how do you get yourself out of it?
Take a break! Taking the time that I need and the space away from the studio is something that is hard for me. I spend a lot of time there and if I have days that aren't productive, I don't take it lightly. If I'm feeling burnt out or in a creative rut, I will spend a few days hiking in the Catskills, spend time with my dog, and see friends outside of the studio to give myself a chance to miss it. I always have my best ideas when I'm outside of that space, usually when I'm walking aimlessly in the forest. Another thing that I like to do is switch it up from the wheel. I will try out some new hand building techniques to really challenge myself. Recently I have been making a few pinch pots and coil pots here and there. It's quite meditative because it is much slower than wheel work. I easily get lost in the detail and it is a very refreshing experience.