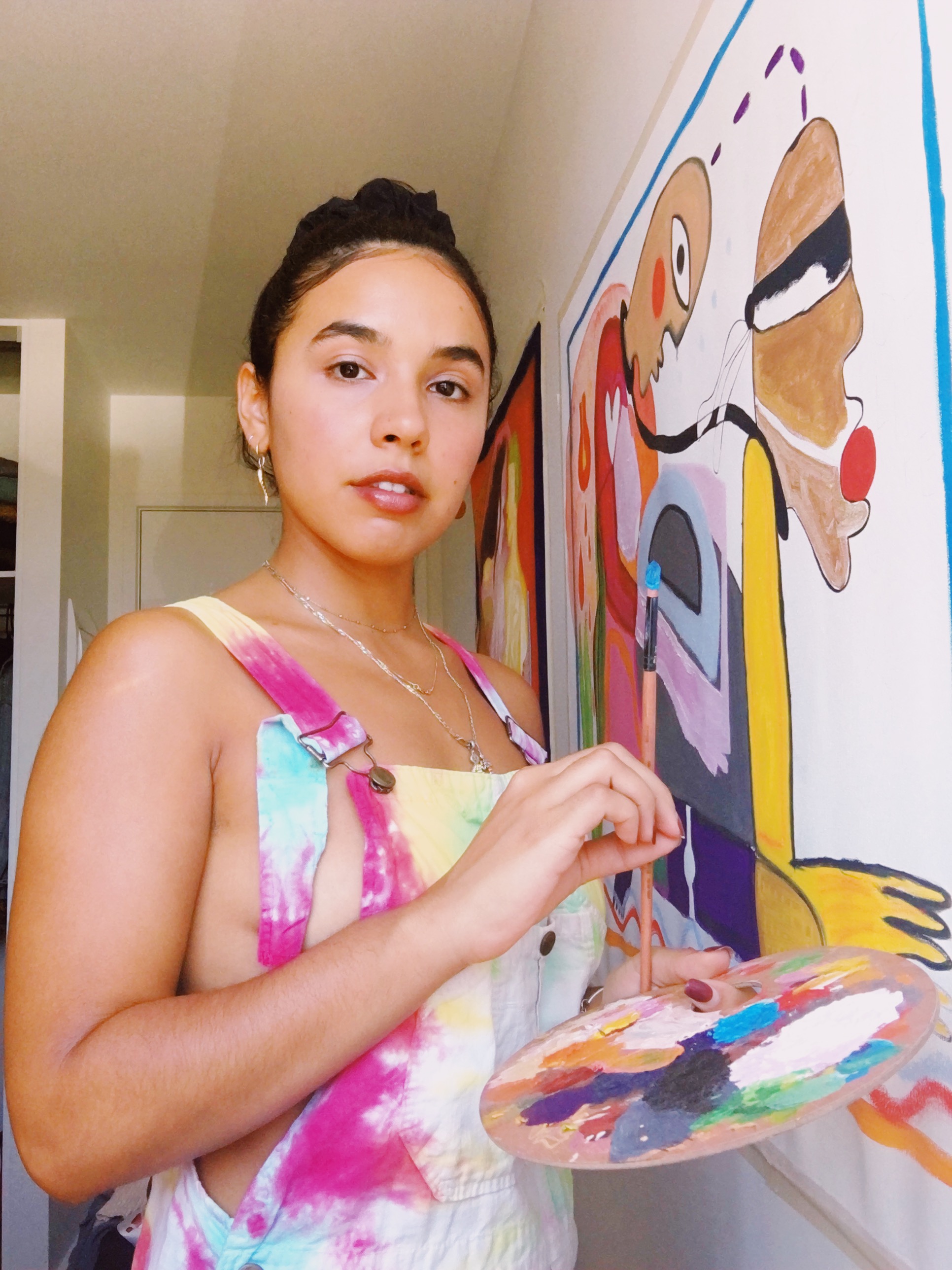 Tell us a bit about yourself.
My name is Zoe DeJesus. I'm an artist from New Jersey.
Tell me a bit about your work and how you began making it.
I've always wanted to do something creative. I dabbled in quite a few things as a child and as a teenager. I did choir and theater and always had a natural affinity for creating art of some kind. In college I studied theater and thought I was going to pursue that after graduating. But I ended up doing odd jobs and being very unsure of myself. I went through a low period where I was very frustrated with life and because of that I began making art to relieve stress. I started sharing my work on Instagram and it became a bit of a hobby. Friends and family responded positively and people started wanting to buy my work so I pursued it and it became a much larger part of my life and my identity.

Do you have a favorite project or piece that you've created?
I'm not sure I have a favorite. I'm very critical of my work, more than I'd like to be. But I am proud of the style that I've developed over the years and I'm interested to see where it goes as I continue making art.
Can you share with us a few artists or makers that inspire you or your work?
Yes, definitely. Frida Khalo, Georgia O'Keefe, Picasso, Basquiat, Matisse, Mickalene Thomas, Ellie Hopley, Frances Cannon, Celeste Mountjoy and Isabelle Feliu. I'm sure there are many more but these are the ones that came to mind.

What is your creative process like?
It's constantly changing. But I guess if I had to describe it I'd say I never have a concrete plan and I'm constantly problem solving and changing my mind. I just sort of let my mind go where it wants and I think my art reflects that.

What is the hardest part about what you do?
It's hard for me to remember that art is for me and not for anyone else. Sharing my work on social media makes it interactive and trying to sell it makes me more vulnerable to the opinion of others. The hardest thing is to stay to true to myself and keep my work honest and original.
Do you have any advice you'd give a young artist hoping to embark on a creative path?
Be consistent, take advantage of opportunity and don't take yourself too seriously!
What is your workspace like?
I work out of the room that I'm currently renting in Melbourne. It's small but it gets the job done.
What are you working on right now?
I'm working on an investigative art series at the moment. I am interviewing people about their sexuality and creating paintings about each person I interview. I plan to exhibit the works in Melbourne in July of this year.
Do you have any insight or tips for how to write about your work for other artists who may be struggling to do so?
Writing and talking about my work has always been pretty challenging. The only tip I'd have for this would be to write in a journal and talk to friends/ family. I think when you're in tune with yourself you can better understand the work that you make.
is your creative work your full time job? if not, can you share a bit about other work you do either full time, part time or on the side?
Making art is not my full time job. Right now it's a hobby and a side hustle. Since I moved to Melbourne for a working holiday, I've been working at a bar. It's nice because I have plenty of time to travel and work on my art. I used to work at an art school when I lived in the states.

If or when you find yourself in a creative rut, how do you get yourself out of it?
I have a few go to remedies for creative ruts. Sometimes I will listen to music and smoke a bit of weed and journal, draw or paint whatever comes to me. Usually something very abstract. I like to practice free association and automatism. I find it really beneficial even when I'm in a really good space creatively.
If the creative rut is really bad and I can't get myself to create anything, I turn to other forms of art. Turning my mind away from myself and my work tends to help. I'll watch a good movie or documentary, read a novel or poetry, see a play, go for walk, exercise, or spend time with friends. It's important for me to escape my own head when I'm stuck. I think my creative ruts often come from overthinking.