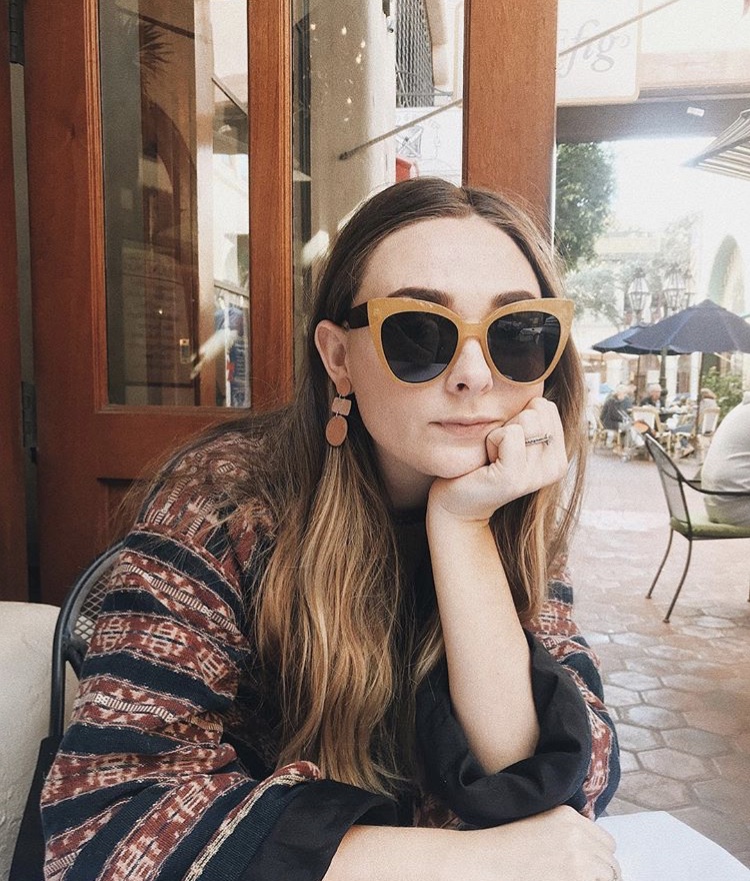 Tell us a bit about yourself.
I'm Jess! I'm 24 and from the central coast of California. My husband and I have been married for about 3.5 years but are high school sweethearts, so we have been together for just over 10 years. We have a 2 year old son, Noah. He is the funniest kid I have ever met (and maybe the naughtiest 😂.) Life is busy but so, SO good.
Tell me a bit about your work and how you began making it.
My Instagram shop started out as a platform for selling vintage clothing and home goods. The idea of giving something new life coupled with offering others an alternative to buying into fast fashion felt so amazing to me. I recently discovered I am a type four on the enneagram (I know I know another twenty something year old bringing up the enneagram-don't hate me😅.) I have always been extremely creative, decent at a handful of things but not amazing at any one particular thing. Making clay jewelry started out as something fun, just for me. The first time I tried to create anything out of clay, I spent hours designing. When i went to fire my pieces, I came to discover that I hadn't used oven safe clay 🙃. I tried again and again until I felt confident enough to start selling my designs per some requests! I'm still so new at it and learning everyday how to improve, but I'm loving every second of it.

Do you have a favorite project or piece that you've created?
Every time I do a drop, I choose my favorite pair out and save it in a folder to my phone and on a private Pinterest board. I come back to it often to stay inspired and excited about what I do. So, a specific piece... I made a pair of classic arches for a drop forever ago. I couldn't part with them until recently. They are translucent and turquoise and felt almost hypnotizing to look at in person!
Can you share with us a few artists or makers that inspire you or your work?
Not someONE specifically. My inspiration is kind of tough to explain. I'm inspired by the ocean and mountains, the sky at night, dreamy interiors, sunsets, bohemian fashion and Spanish missions. See what i mean by confusing ? I think my inspiration makes more sense in my own head, but there it is for you. 😂

What is your creative process like?
When I first decided to start selling jewelry as a side biz, I made a promise to myself, I would not list anything for sale unless it's something I'd personally wear. This mantra has helped me stay true to my style. (I'd call it eclectic??) Sometimes I go into making with colors and ideas in mind, sometimes I need a bit of inspiration, so I'll turn on some music and just get going. I can tell almost immediately if I need to try again later or if a batch feels right.

What is the hardest part about what you do?
Giving my self time to decompress from the job. I'm so passionate about what I do that it can start to feel obsessive. I'm working on taking time to shut off the work part of my brain. There are so many other aspects and important parts of my life that require attention. Before maker, I'm a momma and a wife. When I'm doing those well, I create better.
Do you have any advice you'd give a young artist hoping to embark on a creative path?
Considering myself an artist still feels so foreign to me, so giving "young artists" advice.... I don't know if I'm quite qualified to do that if I'm being honest! I'll give it my best shot... stay true to yourself. One of the most challenging things about what I do is acknowledging that there are tons of other people doing the same thing, and sometimes I think, why bother ? Why would anyone choose my work over someone else's ? BUT when you stay true to yourself, and you don't rip off other people's work, trying to pass it off as your own, you quietly and humbly move forward, there is reward at the end of that. People notice authenticity.
What is your workspace like?
It's my counter top and it's a freaking mess when I'm working!
What are you working on right now?
The answer is always more earrings! Also, I have a new little project I'm thinking about adding into the mix .
If or when you find yourself in a creative rut, how do you get yourself out of it?
I touched a bit on this, but the best thing for me is to remember why I started. For me, it's because it's exciting and calming and makes me feel proud. To see lumps of clay turn into art that people WANT to wear, it's so rewarding. When I'm feeling stuck in a non-creative rut, I remember that there isn't a deadline . I'm my own boss. I am allowed to take time for myself until I feel inspired again to create. Every once in a while when I'm in a rut, I'll make a pair of earrings just for me. When I make something just for myself, it starts to turn the creative wheels in my brain.